ICL's Wilderness Stewards Program has wrapped up another successful year! Six years ago, the program was launched to help land management agencies collect data and utilize the passion of public land advocates to give back to the land they recreate on. 
The program's founding came after the designation of the Hemingway-Boulders, Cecil D. Andrus White Clouds, and Jim McClure-Jerry Peak Wilderness. Since then, it's grown to cover more of Idaho's beloved public lands – making a positive impact on more places, people, and wildlife. 
Central Idaho Wilderness Stewards
Through the program, dedicated volunteers hike to their favorite places on their own time to give back to the outdoors. Stewards naturalize backcountry campsites, address waste issues, and connect with trail users about being strong stewards of the land. This year, our 65 central Idaho wilderness stewards and their 200 trail companions amazed us with their dedication. Together, they…
Completed 124 patrols on 2,374 miles of trail

Engaged with 2,888 trail users

Extinguished four unattended fires

Destroyed or reduced 123 backcountry campfire rings

Completed three days of backcountry fire sweeps following the 4th of July and Labor Day

Installed trail signage in the Jerry Peak Wilderness

Hosted three trailhead engagement stations in the Sawtooth National Recreation Area

Attended additional training about Wilderness First Aid, noxious weeds, and wildlife
The work of our central Idaho wilderness stewards isn't the only thing we are celebrating this year. 2022 also marked the pilot year of the west-central Wilderness Stewards Program in the Payette National Forest. 
West-Central Wilderness Stewards pilot year
Through this extended program, ten volunteers helped collect data and give back to roadless areas throughout the Payette National Forest. During their patrols, stewards continuously reported that the amount of solitude they experienced in the backcountry of the Payette National Forest was surprising and rewarding.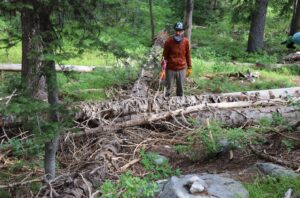 One of the most significant events west-central stewards supported was a trail maintenance program with the Idaho Trails Association to Blackmare Lake. There, volunteers experienced a rugged, overgrown, hard-to-access trail. Because of their work clearing the path, the most adventurous hikers may now have an easier time accessing the area – the once indistinguishable path that takes you from Blackmare Lake to Denker Lake was clearly navigable after the week of work.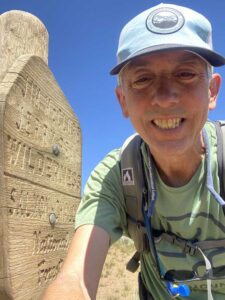 A collective effort
ICL's Wilderness Stewards Program would not be possible without the dedicated volunteers that use their time to give back to public lands. Not only that, but without funders such as the National Forest Foundation, National Wilderness Stewardship Alliance, and private donors, the work and training it entails wouldn't be possible. 
Our public lands are just that – ours! And without individuals like ICL's Wilderness Stewards and dedicated organizations and agencies, these remarkable areas would not be what they are today.
Are you interested in becoming an ICL Wilderness Steward in 2023? Sign up to receive updates about the 2023 season.