As the State of Idaho comes to grips with the new reality of social distancing, I'm pleased to report that the Legislature will be joining this trend. On Thursday, the Senate adjourned sine die and the House followed suit on Friday. 
While I sometimes make light of some of the challenges we face as a state, I first want to recognize the hardship that many are already facing as a result of the new coronavirus. In Idaho, it has already sickened dozens, has upended hundreds of thousands of students, closed restaurants, hotels and small businesses, impacted investments and retirement savings, every child care service in the state (and many working parents), and will stretch the capacity of hospitals, doctors, first responders, teachers and grocers, to name a few. We at the Idaho Conservation League recognize the pain that our fellow Idahoans are feeling and encourage us all to find ways to help our neighbors, friends, families and communities respond to this pandemic. Useful info can be found here to stay up to date on what's happening in Idaho.
That said, ICL staff are working from home, social distancing and striving to continue to do the work that we all believe in. While we might be telecommuting, we're working everyday to protect the air you breathe, the water you drink and the lands you love.  And while I wasn't working in the Capitol this week, I was tracking bills and communicating regularly with legislative leaders to ensure that Idaho's conservation voice was heard.
Join me at 2:00 p.m. on Monday, March 23, 2020 via Facebook live or Zoom Webinar to hear my live wrap up of the 2020 legislative session. 
So, without further ado, here's your sine die edition of the ICL Legislative Update…
Amended pesticide bill on to Governor's desk
Last week, a hearing in the Senate Agricultural Affairs Committee changed the flightpath for a bill that proposed to change the way pesticides are managed for both aerial and ground-based applicators.The amended bill, now awaiting the Governor's signature, restores authority to the Idaho State Department of Agriculture (ISDA) to regulate "ineffective and improper" pesticides and retains language prohibiting their "careless and negligent" application. 
As a result, the bill effectively only requires that penalties be adopted into Administrative Rule via negotiated rulemaking. ICL and partners look forward to being involved in that rulemaking to ensure that Idahoans are protected from exposure to toxic chemicals.  
While we're talking about rules…
The House and Senate failed to concur on a "going home bill" that extends all administrative rules considered this year. Unlike last year, though, all rules do not expire upon the adjournment of the legislative session. Instead, since all rules were submitted as pending rules, they won't actually expire until June 30, 2021. That means that the science and other K-12 education standards, which were rejected by the House Education Committee, will remain in place until at least June 30, 2021. Nonetheless the House and Senate did concur on the establishment of a "study committee" to evaluate education standards, which we'll be watching. 
The exception is any rules that have a fee associated with them. These rules have to be approved through a legislative resolution, and one wasn't passed. We've been closely watching rules that govern pesticide application, which were rejected by the House Agricultural Affairs Committee. Because all these rules now expire, concerned Idahoans are calling on ISDA and the Governor's office to extend these rules to ensure that farmworkers and neighbors receive the safeguards they deserve. 
Public lands attack fails
Ken Ivory attended a meeting of the Idaho Legislature's Federalism Committee in January, touting his new business: signing contracts with western states to recalculate public land values, so that we can demand more in Payment in Lieu of Taxes (PILT) from Congress. Don't get us wrong, the way that Congress offsets lost property taxes to counties is broken, and deserves attention. But simply asking Congress for a billion dollars won't solve the problem. 
Unfortunately for Ivory and his supporters in the Idaho Legislature, the Senate State Affairs Committee had already closed up shop for the year and did not consider House Concurrent Resolution 38. We'll be watching closely to see whether this resolution will be reintroduced during the 2021 Legislative Session.
Extra! Extra! Read all about it
If you've enjoyed ICL's weekly legislative updates this session, make sure to sign up to receive the special newsletter that we send out by mail to our members. After we've had a chance to fully process the outcome of the session, and reflect upon the final decisions and maneuvers, we'll give a full report so that you can be a more effective advocate for the issues you believe in. To receive the mailer, you'll need to be a member, so consider signing up today.
The TOTW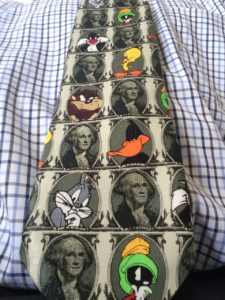 This week's TOTW is dedicated to those who are retiring from the legislature, those who have been impacted by the coronavirus, and our health professionals, first responders and many other critical workers who risk their lives to keep us safe. In their honor, I bring you the Tie of the Week! That's all for the 2020 legislature folks! Thanks for reading and thanks for your support of ICL.
With deepest appreciation, stay safe and esto perpetua, 
Jonathan