During the past couple of years, we have seen our fair share of environmental rollbacks, attacks on public lands, and an indifference to the negative impacts of climate change to Idahoans. Yet, here at the Idaho Conservation League (ICL) we're filled with hope for the future. While this may seem counterintuitive – or delusional – I can assure you that our hope is well founded, and I believe you should be hopeful, too. What can inspire such optimism in times like these? Look no further than ICL's Emerging Leaders for Idaho's Environment, or ELIE (pronounced el-ee), as we like to call it. ELIE is a program created by ICL for young professionals to teach them about advocacy and conservation in Idaho. More importantly, ELIE is a reminder that we're not in this fight alone, and a whole new generation is stepping up to learn from conservation leaders while blazing their own trail to tackle emerging issues, most notably climate change.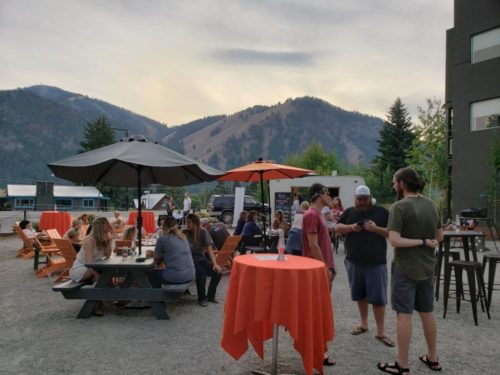 ICL established ELIE in October 2017, recognizing that a large number of conservation leaders were nearing the end of their careers. For conservation work to continue to thrive, new leaders needed to be empowered and given opportunities to engage in conservation advocacy. While ICL created the framework of the ELIE program, it's important to note that ELIE's success comes from the enthusiasm and professionalism of the participants.
There were three ELIE cohorts across the state (one in each of ICL's offices): a Boise group, a Ketchum group, and a Sandpoint group. Eighteen individuals total participated in the first year of the ELIE program from October 2017 to April 2019. The members in this first cohort dedicated their time to furthering conservation efforts in Idaho by using their skills and talents to support the work ICL is doing. Here's just a snapshot of what they were able to accomplish:
By the Numbers
ELIE members threw a membership drive kickoff event and welcomed more than 70 new ICL members.
Over $2000 was raised by ELIE during the membership drive.
ELIE contributed more than 500 hours of volunteer time at meetings, events and other engagement activities.
Building a Conservation Community
ELIE members created a poster series of photographs with portraits of participants, including personal details or interests associated with the person being photographed, designed to demystify conservation advocacy.
ELIE participants organized, promoted and held a Science Pub talk in Boise on transportation issues. More than 40 individuals attended, with the majority of attendees being the targeted demographic of young professionals.
The Boise and Central Idaho ELIE cohorts each organized a membership drive kickoff event in their respective cities and brought in more than 70 new, predominantly young members.
The North Idaho ELIE crew staffed a table at a University of Idaho event in Moscow, pitching ICL to students and gathering 48 signatures for an ICL petition to retire the Colstrip power plant.
The North Idaho ELIE crew helped ICL facilitate a Bear Aware event in Sandpoint, where members and supporters learned about bear safety.
9 ELIE participants attended Wild Idaho and participated in two speaker panels (as well as jumped into the lake…).
The first year participants will forever be a part of the ICL family, and we can't thank them enough for their hard work and dedication to this program. Thanks to the shining example set by the first cohort, ELIE will continue to grow and only get better at empowering Idaho's next generation of environmental leaders.
Our first-year ELIE participants were:
Boise
Elizabeth Urban
Eric Oliver
Eric Willadsen
Justin Buckley
Lindsay Lodis
Matthew Wordell
Randi Walters
Sara Peyton
Central and Eastern Idaho
Alaina O'Neal
Annie DeAngelo
Brady Barkdull
Emily Williams
Luke Nelson
Matt Robinson
Molly Meyers
North Idaho
Avery Lavoie
Alson Dunbar
---
We took what we learned from the first year of the program and are now headed into year two filled with inspiration and excitement! The second ELIE cohort met for the first time on Monday April 22, 2019 and the program will run through May of 2020. Keep an eye out for more updates to hear about what our new group accomplishes as the program moves forward!