For over 150 years, mining has been given preferential treatment on public lands thanks to the overly generous language of the General Mining Law of 1872. This Civil War-era law has been the subject of many failed reform efforts aimed at modernizing mining on public lands – reform that is much needed. 
The latest effort – the "Mining Regulatory and Clarity Act" – is not actually reform at all. Instead, the bill introduced by Senators Jim Risch (R-ID) and Catherine Cortez-Masto (D-NV) would make it easier for mining companies and others to acquire rights to federal lands and use them as dumping grounds for harmful mining waste. 
What does the bill say?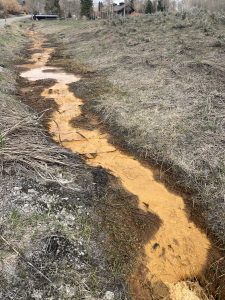 The bill, S. 1281, would guarantee that mining companies "shall have the right to use, occupy, and conduct operations on public land, with or without the discovery of a valuable mineral deposit" as long as the required fees are paid. In practice, this would allow mining companies to dump mine tailings and other potentially toxic waste on neighboring public lands where the company has a mining claim but has not proven that valuable minerals exist. Ultimately, this bill would convey mining companies with an absolute right to permanently occupy and/or store toxic waste on public lands.
Why is this bill being proposed?
The Mining Regulatory Clarity Act was authored in response to a recent federal court case known as Rosemont, as well as two subsequent federal court rulings. The question raised in this case was whether a mining company has the right to dump mining waste on public lands, despite not having valid mining claims. The Rosemont decision affirmed that a mining company must prove that valuable minerals exist on a claim before they can occupy that land and dump waste on it, and that federal agencies must verify the existence of valuable minerals rather than just taking the company's word for it. 
If passed, the Mining Regulatory Clarity Act would insulate mining companies from the recent federal court rulings, significantly strengthening mining rights at the expense of the environment and all other public land users, including fish and wildlife.
Idaho implications
The proposed bill would have very real impacts on Idaho if it were to pass. Idaho continues to attract significant interest from mining companies due to a plethora of mineral deposits and a pro-mining regulatory climate in the state. The larger open-pit mine proposals generate so much waste that they require vast expanses of public land to dispose of mine tailings and waste rock. For example, the Stibnite Gold Project, which is currently being proposed in the sensitive headwaters of the East Fork of the South Fork Salmon River, would generate 120 million tons of mine tailings. Perpetua Resources, a junior mining company, hopes to be able to dispose of these tailings outside of the existing footprint of disturbance, burying a bull trout spawning area under 400' of potentially toxic waste. Under the Mining Regulatory and Clarity Act, Perpetua would not need to demonstrate that this area is open to mineral entry and could instead just condemn this area as a permanent tailings storage facility. 
If we want to keep Idaho's lands and waters from being used as mining dumping grounds, we must stop any efforts (like S. 1281) to make mining laws even friendlier to the industry than they already are. 
Speak up!
Our very own senator from Idaho, Jim Risch, is a co-sponsor of this bill. Follow this link from our partners at Idaho Rivers United to take action and urge your representatives NOT to support this bill.
You can also contact Senator Risch directly via email or phone (202-224-2752) and ask him to withdraw this bill from consideration. 
If passed, the bill would give the mining industry even more power to dictate how public lands are used, tipping the scales away from local communities, Native American Tribes, wildlife, and the environment. Time and again, we've seen what happens when mining is prioritized over communities, landscapes, and wildlife – clean water, wildlife, fish, and public lands lose. Instead, Congress should work towards meaningful reform of the 1872 Mining Law to balance our nation's clean energy mineral needs while also protecting watersheds and other public land users.