The 4.2 million acre Salmon-Challis National Forest is rich in history and natural resources. The Salmon-Challis is one of the largest national forests in the country with an immense amount of unroaded, wild lands that support an immeasurable number of recreational opportunities. The Salmon-Challis National Forest also provides habitat for numerous plants and wildlife species, as well as plays a key role in the water needs of the region. To celebrate the importance of the Salmon-Challis National Forest, ICL will be publishing a blog series celebrating this vital land and the opportunities provided within.
I am fortunate to live in Blaine County where I am surrounded by public lands. As an avid hiker, finding remote areas to explore is pertinent to my mental and physical well-being. In short, public lands are the epitome of my being. 
Growing up in an area surrounded by National Forests has led to a lifelong relationship of public lands and their vast forests and high peaks centering me, balancing me and humbling me. After leaving home and attending college, I spent eight years chasing adventure in wild areas. After landing in Idaho with my Idahoan husband, I quickly fell in love with the Pioneer Mountains and their ability to provide me a safe haven and quick adventure more times than I can count. 
I recently decided to take some time to explore my favorite trail in the area, Trail Creek Summit. In some years, it feels as though this trail is overused and in others it seems as though it hasn't seen a visitor. This section of the Challis National Forest has been a popular topic of Forest Management discussions and is a focus area for future wilderness designation, as it encapsulates the primary objectives of wilderness in the Wilderness Act: "Generally appears to have been affected primarily by the forces of nature, with the imprint of man's work substantially unnoticeable; has outstanding opportunities for solitude or a primitive and unconfined type of recreation; has at least five thousand acres of land or is of sufficient size as to make practicable its preservation and use in an unimpaired condition; and may also contain ecological, geological, or other features of scientific, educational, scenic, or historical value." 
This hike wasn't just any hike. I was volunteering while hiking – recreating with purpose, so to speak. 
Through my role with ICL, I am honored and privileged to oversee and partake in the Wilderness Stewards Program, which allows public land recreationists to give back to the land they love through stewardship. Through the program, I have the opportunity to hike in amazing country, both wilderness and recommended wilderness, and give back to the land I deeply cherish.
My morning began early – and chilly. It was a brisk 45° F in the Wood River Valley when I started my late-spring wander into the high country. My excitement grew with each mile I drove up the iconic Trail Creek Rd, as my surroundings began to change. The trees at higher elevation were sprinkled with snow that resembled the light dusting of powdered sugar. I drove through the section of Trail Creek Rd that sits in the Sawtooth National Forest before passing into the Challis National Forest. To my surprise, nobody else was at the trailhead on this chilly 39° F morning. 
As I got out of my car, the loud rush of a heavily flowing Summit Creek filled my senses – a sound that was far less prevalent during my past visits. At that moment, I knew that the hike was not going to feature the somewhat arid, hot, wildflower-filled valley I had visited in the past – there was water flowing and the land was moving with it.
Knowing the valley would be wet and parts of the trail soggy, I put on my gators to ensure I did not have to stray off of the trail to avoid water. Doing so widens trails and increases erosion. I quickly crossed the damp logs splayed across Summit Creek and began the quick and easy climb into the valley. Because I was using this time to send data back to our National Forest partners, I noted areas of concern with the trail, documenting downed trees and keeping an eye out for anything else that may prove useful for land managers.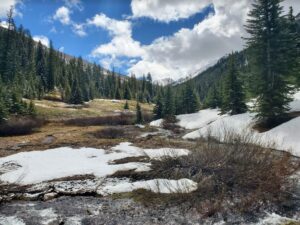 In past visits, bright green hillsides scattered with wildflowers greeted me as I entered the valley. This year, thanks in part to a cold and wet spring, the same green hillsides were there, but instead of wildflowers, snow powdered the landscape. 
I began making my way through the valley. While some areas of the trail were flooded, others were surprisingly dry. There were only two sets of human footprints that I saw as I crossed snow – a reminder of the absolute solitude this area can provide for those who seek it. 
As I continued to journey up the trail, snow became more frequent, but my soul lit fire. As a hiker and mountain lover, I look forward to my first high-country hike of the year every year.. Not only was I rejoicing for my own hiking passions, but also for the land, water and wildlife that were reaping the benefits of a wet year, after years of only experiencing severe drought classification.
The trail meanders up a beautiful valley that Summit Creek flows through for roughly five miles before branching off to Kane-Summit Trail, which leads to the tucked away Kane Lake. Not only does this trail end with the opportunity for more adventure, but it also leaves you on top of a pass surrounded by towering gray peaks – a view that certainly takes your breath away. As I hiked on, it became more and more evident that I may not make it the five miles back. Boreas, the ancient Greek god of the north wind and bringer of winter, was busy at work – covering much of the landscape with his gifts of snow. 
As I reached the three mile mark, at about 8600' elevation, the two sets of human footprints I had been following had been completely covered in snow. I eventually reached a point where I was no longer comfortable continuing on. As a person who often hikes solo, I know and respect my boundaries – and too much snow in unstable conditions is one of them. Before beginning my trek back, I took some time to hydrate and take in the views. 
My decision to turn around was a good one – the vivid blue sky that greeted me that day began to fill with fluffy, dark clouds. My pace quickened when a brief June snow shower started, but the sun came back out shortly after – lighting up the valley and embracing me with warmth.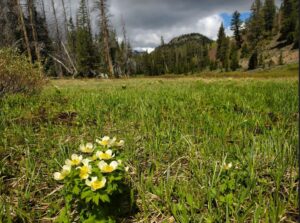 I had seen fresh moose scat on the hike up, so I looked around for the bull moose I often see in this area on the way down, but he remained tucked away. He was without a doubt aware of my whereabouts as I sang on the hike up, and on the way down the sweet sounds of happy songbirds sang back to me. Being in such beauty is not only good for the soul, but reminds me that well thought out and collaborative Forest Management Plans are essential to keeping places like this pristine.
As I neared the end of the trail, the intermittent cloud coverage became more and more prevalent. With soggy boots, a chilled face, and a reinvigorated spirit, I once again crossed the wet logs splayed across Summit Creek and made it back to my car.
Summit Creek Trail is my favorite easy-access trail in the Pioneer Mountains. It has just enough elevation gain, incredible views and serves as a critical habitat for wildlife. It also provides a sense of solitude, which keeps me coming back for more. While the thought of sharing my favorite place with others is concerning and everything in my being says I should keep it a secret, others having their own experiences on this trail can help foster a deeper understanding of why it is so worthy of protection – thus  loudening the calls to protect it. 
If the Salmon-Challis Forest Management Plan did not bring to light the importance of this place, I don't know if it would still be as untouched as it is. As a hiker and adventurer, I love the idea of escaping the fast pace of the modern world out of the trail. But without opportunities created by smart plans with land management agencies, conservation organizations, and public input – I fear those places of escape would not exist for me or the wildlife that depends on them.
If you want more information to plan your next Idaho adventure, or to stay updated on Idaho's public lands – sign up for ICL's public lands emails.