As we get closer to Valentine's Day, we start thinking about  the ones we love and who is the right one for us. Here at ICL, we think about what we love about Idaho – clean air, clean water, vast public lands and abundant wildlife on them. For the climate team, our thoughts turn to clean energy and our love of climate-friendly electric vehicles (EVs). We are not alone in our love for EVs; more and more people are celebrating 'EV joy' every year. 
On Valentine's Day in 2019, Governor Little declared it to be 'Electric Vehicle Day.' Since then, we've seen progress for EVs in Idaho and beyond. Why are we so in love with EVs? Because EVs love us back – they help fight climate change, protect our air quality and public health, and boost our economy.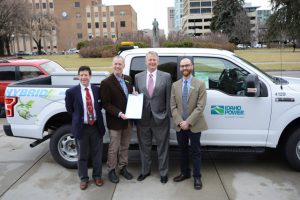 Now is also a great time to buy an EV. In 2022, the Idaho State Office of Energy and Minerals completed plans to build out EV charging stations across the state, putting "range anxiety" in the rearview mirror. The Inflation Reduction Act, which also passed last year, gives even more incentive to make your next car purchase an EV – used plug-in hybrid and all-electric cars have a tax credit of up to $4,000, and credits for new EVs go as high as $7,500. There's even a rebate for installing an EV charger at your home. Credits are dependent on your income, the date you buy the vehicle, where the vehicle was assembled, and a few other factors. While waiting for the IRS to determine credits for 2023 EVs, you can find more information on rebates here.
Looking at the total cost of ownership comparison between EVs and standard cars will make you love EVs even more. In Idaho, an ICE car will go 800 miles on $100 of gas. An EV will travel 4,350 miles on that $100, saving you money to spend on your other Valentine.  
Let's talk about maintenance. With fewer moving parts, no spark plugs, and no transmission, EVs don't need replacements. This also means no oil changes or oil filter replacements. All in all, when Pacific Gas and Electric studied an EV (the Chevrolet Bolt) to a similar ICE car (the Volkswagen GTI) over the course of five years, they found that the EV owner saved $19,000!
Now that you know why it's a great time to go electric, let's find out which EV is your perfect match!
Playing Matchmaker: Which EV is right for you?
The fully electric Chevrolet Bolt has certainly been feeling the love this year, after it claimed the title of Edmunds Top Rated Electric Car.
 At a starting price of $27,495, the Bolt hatchback drives and feels like an internal combustion engine (ICE) car but with a smooth powertrain that's ready to scamper. With the interior room large enough for a family of four and gear, it's still small enough to park anywhere. This unassuming affordable EV is ready for Idaho adventures, having an impressive Environmental Protection Agency (EPA)-estimated range of 260 miles.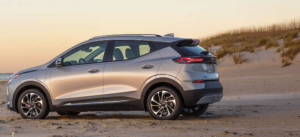 This year people also fell head over heels for the Kia EV6, a sport utility vehicle which won the 2023 North American Car of the Year. With a base price of $48,700, this vehicle has many impressive aspects, including an amount of interior space that rivals many large SUVs. Sustainable and recycled materials are used throughout the interior, including the use of recycled plastics and high-quality vegan leather. The Kia EV6 also takes only 18 minutes to charge from 10% to 80%, and has a total range of over 325 miles. Lastly, this vehicle can also supply up to 3.6 kW of electricity as a portable generator for your home or outdoor activities.

If you aren't interested in either of these crowd pleasers, follow this guide to find out which EV is right for you.
You met your match. Now what?
With great incentives to purchase an EV and over 28 different EVs available in the U.S., we are excited about the blossoming appreciation Idahoans have for plug-in and hybrid electric vehicles. There were 139 registered EVs in Idaho in 2015. Now, including hybrids, there are over 7,000. Many previously owned electric vehicles are also coming onto the market. Newer EVs are combining everything we need in Idaho, like a standard range above 250 miles and the convenience of plugging in at home, with an affordable and healthy dose of what we want. We look forward to seeing you in an EV this year! 
To learn more about the impact of EVs and clean energy in Idaho, sign up for ICL's Climate Campaign updates. For more information about EVs in Idaho, head to ID-EV.com