As temperatures warm during summer, Idahoans flock to the shores of Idaho's spectacular  rivers, lakes, and reservoirs. Whether it's boating, swimming, fishing, picnicking with family and friends, or just strolling along the banks – Idaho's abundant waters provide a respite from the heat and a chance to cool our toes. With over 2,000 lakes and 93,000 miles of rivers and streams in the Gem State, Idahoans have a lot of options.
Unfortunately, not all water bodies are safe for recreation due to outbreaks of toxic algae. And the impacts are felt across the state, with health advisories and closures issued on 14 different water bodies last year and on 21 different water bodies in 2021.
Last year, a horse died after drinking contaminated water, and toxic algae is the presumed cause of deaths for two dogs as well. No doubt, these are tragic outcomes – made even more tragic because these deaths are preventable.
What is toxic algae?
Blue-green algae or cyanobacteria naturally occur at background levels in many freshwater ecosystems. But when conditions are right (or wrong…), populations of toxic algae have the potential to explode, producing potentially fatal cyanotoxins that can cause severe illness or death from direct contact, ingestion, and even exposure to wind-borne spray. These outbreaks are also referred to as HABs – harmful algal blooms.
Symptoms can include abdominal pain, vomiting, blistering around the mouth, fever, headache, diarrhea, cough, hives, rashes, and respiratory paralysis, and can even lead to death. Dogs, cattle, and other livestock can be especially susceptible to toxic algae.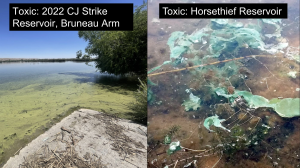 How do these outbreaks occur?
Outbreaks generally occur when there is a combination of high water temperatures and excessive phosphorus and nitrogen, which feed these bacteria. In many cases, it can be difficult to control water temperature, but there are steps that can be taken to reduce the nitrogen and phosphorus pollution that contribute to these outbreaks.
The primary sources of this pollution are wastewater systems and treatment plants, runoff from over-fertilized crops and lawns that drain to surface or groundwater, beef and dairy feedlots, fish farms, and other industrial discharges. Disturbed soils from construction sites can also contribute to this pollution.
But high water temperatures are not always a prerequisite for toxic algae. In June 2022, the presence of thick mats of greenish algae in Lake Cascade caused concern when water temperatures were still down around 60 degrees, when outbreaks generally do not occur. While monitoring determined that the levels of cyanotoxins were below the level required to issue a Health Advisory, Central District Health and the Idaho Department of Environmental Quality urged caution and encouraged visitors to be vigilant and avoid areas where algae was present.
Health Districts and other partners rely upon citizen reports to monitor potential algae outbreaks. Our next blogs in this series will break down what a toxic algae outbreak looks like and additional details on how to report one, as well as envisioning a better future where we tackle the causes of toxic algae and develop a better reporting system. Together, we can help protect Idahoans, our pets, and our wildlife from toxic algae, and ensure clean water for all. Stay tuned for our next blog and to take action against toxic algae!