From the high peaks of the Lost River Range to the dunes of Craters of the Moon, Idaho Conservation League's Wilderness Stewards have been hard at work caring for Central Idaho's spectacular landscapes.
What, exactly, is a Wilderness Steward?
Wilderness Steward volunteers embark on independent patrols across Central Idaho Wilderness Areas, helping preserve and protect wilderness qualities. This work includes engaging with the public about rules and regulations, dismantling backcountry fire rings, picking up trash, and collecting data for the U.S. Forest Service.
Wilderness Stewards patrol from June until the snow flies. These dedicated volunteers monitor the Sawtooth, Hemingway-Boulders, Cecil D. Andrus White Clouds, Jerry Peak-Jim McClure Wilderness Areas, plus Craters of the Moon National Monument and Salmon-Challis Recommended Wilderness Areas.
By the numbers:
As our Wilderness Stewards near the halfway mark on the season, it's time we celebrate their accomplishments! Since June, Stewards have:
Encountered nearly 2,000 trail users

Removed 40 pounds of trash

Destroyed or cleaned 71 fire rings

Recorded trail-user data over 762 miles of trails.
If that's not enough to quantify the scope of their work, consider this: These 60 volunteers have given up 725 hours of their time—the equivalent, roughly, of a month—to tend to our public lands.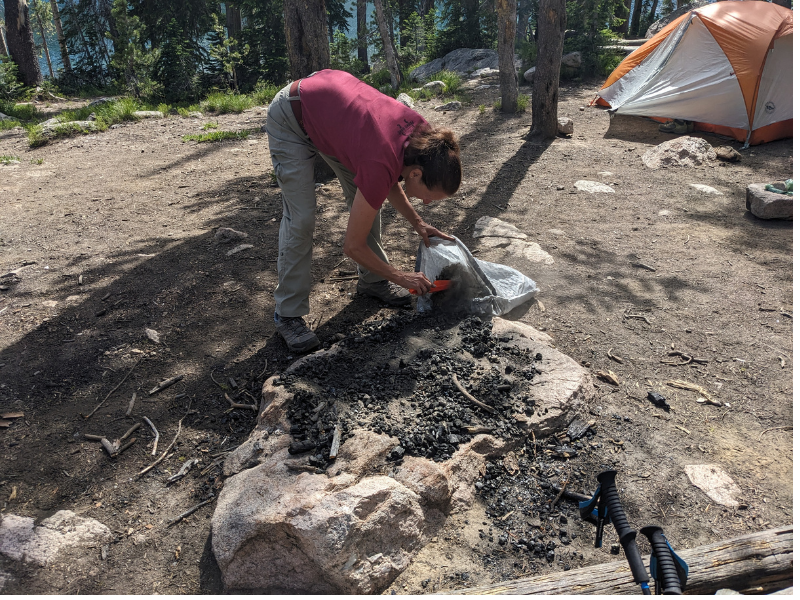 An individualized approach to stewardship:
While all Wilderness Stewards receive USFS-sanctioned training, no two volunteers take the same approach. One of our Stewards takes their dog along on hikes in the Sawtooths to help start conversations about why dogs are required to be on leash in the Sawtooth Wilderness. Other Wilderness Stewards complete their patrol duties while on volunteer trips with trail work organizations, like Idaho Trail Association or Pulaski Users Group. Some Stewards patrol on backpacking trips, while others patrol on trail runs. Every volunteer does exceptional work while recreating however they most enjoy.
Similarly, no two stories reported back from the trail are alike. Some reports allude to the solitude of high peaks and alpine lakes. Meanwhile, others tell of engaging with trail-user groups of 15 or more and educating them about the importance of following group-size regulations. There are reports of Wilderness Stewards putting out still-smoldering fires, yet other reports of trail users appropriately using fire pans. From llama packers to mountain goats, every patrol offers something a little different (and yes, each one of the above examples is from this season)!
There's no telling what you might see, hitting the trails as a Wilderness Steward. The one common thread is that there is always work to be done by Wilderness Stewards, whether in the deepest, quietest corners of Wilderness or in high-traffic scenic zones. Our public lands need public support, and Idaho Conservation League Wilderness Stewards help chip away at this mountain of work, benefiting all of us who share these spaces.
How can you give back to our public lands?
Always follow the rules and regulations of the area you're visiting! Review our blog series on Recreating Responsibly. Take a look at the Leave No Trace principles below, and keep them in mind when you're exploring our incredible public lands:
Plan ahead and prepare

Travel and camp on durable surfaces

Dispose of waste properly

Leave what you find

Minimize campfire impacts

Respect wildlife

Be considerate of others
And if you're interested in becoming an ICL Wilderness Steward in 2024, sign up here to receive updates!