While wilderness designation is often considered the keystone component of Rep. Mike Simpson's Boulder-White Clouds legislation, an equally important provision allows for the permanent retirement of grazing allotments in the area. As salmon and steelhead runs in the East Fork Salmon River declined, conflicts grew about how to manage livestock operations in sensitive riparian areas, leading to uncertainty on all sides.
Grazing retirements can give fish and wildlife more breathing room and give ranchers more options to graze livestock in less sensitive areas. Last year, ICL helped facilitate the permanent retirement of 46,000 acres in the upper East Fork Salmon River from willing permittees. This story is about what happens next.  
– John Robison, ICL public lands director
June 27
A group of six wilderness volunteer stewards, plus ICL Community Engagement Associate Betsy Mizell and Sawtooth National Recreation Area Wilderness Ranger Ed Cannady, met at the Bowery Guard Station, a beautiful spot at the end of the East Fork Salmon River road.  Last year, one of the critical grazing allotments was permanently retired, and we were excited to help with fence removal in the Boulder-White Clouds to finalize the land's transition to designated wilderness status. While fences can be critical for managing livestock, they can also pose a threat to wildlife that can become entangled in them. Removing fences that are no longer needed is a great way to remove a hazard to migrating wildlife and rewild an area.
Once everyone got their camp set up, Ed gave us a nice welcome and introductory talk. Then we were off to our fence take-down!  A mere 5-minute walk from the guard station, we started pulling up metal and wood fence posts, pulling out fencing staples and saving them for recycling, and learning the very precise art of rolling up old, sometimes rusty, barbed wire.  Some of the fence had been put up by the 1930s Civilian Conservation Corps (CCC), so you can imagine how the fence line had "become one" with some of the sage, willows and evergreens!  Thanks to our wet spring, wildflowers were everywhere and the scenery was a beautiful green even in July. Songbirds and raptors kept us company during our work and offered a pleasant distraction.
After a few hours of work, Ed told his new crew to finish up for the day.  We all trooped back to the guard station, put our feet up on the picnic tables and enjoyed well-earned rehydration!  After a nice dinner on the front porch of the guard station cabin, some retired early to bed and others soaked in the nearby hot springs – but we all enjoyed the beautiful full moon!
June 28
We were up bright and early the next morning to have breakfast and get ready for another work day.  Luckily, we all were pretty chipper about continuing the fence takedown on the hillside behind the cabin and returning the hillside to its original beauty.
We headed back up to take down the remaining western end of the fencing, which ended at a geologic outcropping of massive proportions… AKA big rocks!  We finished up the morning by hauling all the scrap metal down the hill, along with the many rolls of barbed wire.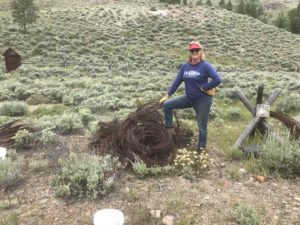 Lunch at the picnic table was a nice break! Then it was off to a new location 4 miles north of the guard station on the East Fork of the Salmon Road.  We felt like seasoned pros at this fence takedown routine by now!  We passed an enclosed area where a rare, endemic primrose had been identified years ago. We walked about a half mile to the eastern border of the grazing allotment, noticing rather large wolf scat along the way.  Then each of us dove back into work mode, spending the next 4 hours taking down posts, rolling wire, all the while avoiding bogs as much as we could.  Hauling down all the metal posts, buckets of metal fencing staples and rolls of wire at the end of the day pretty much drained us. Lugging the two rather large fence-post removers up and down the hillsides was an art form in itself! But we were rewarded by looking back up the wild hillside, watching a golden eagle soar overhead, and documenting our varied assortment of scratches and bruises!
Back at the guard station cabin, we once again put our feet up on the picnic tables and rehydrated, treating ourselves to stories of the day's work – most of them involving our superhuman strength, dodging bears, avoiding leg-breaking holes in the landscape, or admiration for how incredible the place was starting to look.  We felt so lucky to be involved with this project, and appreciated how well Betsy and Ed organized the whole thing.
We were then treated to a dinner created by Betsy – a wonderful curried stew over rice. Awesome! There wasn't a scrap left. After that it was time for another soak in the hot springs, retiring early, or more talking.
June 29  
An almost full moon greeted us the next morning as we woke up and went to the hot springs for an early morning soak. After breakfast, we gathered in the cabin to talk about our experiences of being part of this project to take down fences in the newly designated wilderness area.  With the official work over, Ed led us on a patrol up to the saddle, overlooking the Bowery Guard Station.  Hiking farther up the trail led us to a fantastic vista of the Boulder-White Clouds Wilderness and Castle Peak.  We felt we were the luckiest people on earth! Ed identified all the trees and flowers as we hiked through them – they were growing wonderfully from the wet spring.  After a big snack and replenishing liquids, we headed back down to the ranger station.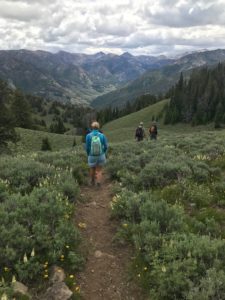 We said our good-byes to old friends and a few new ones.  Each of us had a feeling of accomplishment and thankfulness that we're able to be a part of ICL's wilderness stewardship program and had an active role in the fence takedown.  Wilderness truly does renew the soul.
– Sheri and Don Weber, volunteer wilderness stewards