Idaho Wilderness Trail Webinar – Online
May 10 at 6:00 pm

-

7:00 pm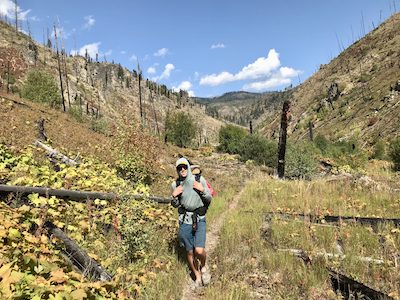 Get ready and get inspired with this trip report adventure from the Idaho Wilderness Trail! Join father and son duo, Tom and Will Gattiker for this visual webinar and hear more about the 300 miles they covered through Idaho's backcountry. Stories from the Middle Fork Salmon and Sawtooth Range, the Selway, and little known areas like Rhoda Creek, Parker Mountain, Hidden Creek and Horse Creek.
Learn about the strategies they dealt with about the route's complications including resupply logistics, inaccurate information and fire, snow, sleet, rattlesnakes and bears.
The Idaho Wilderness Trail stretches for 296 miles across three central Idaho wilderness areas that comprise nearly four million acres, an area larger than most national parks: the 1.3-million acre Selway-Bitterroot Wilderness, the nearly 2.4-million-acre Frank Church-River of No Return Wilderness, and the 217,000-acre Sawtooth Wilderness. Nearly 350 miles long when including three remote road sections (where backpackers may be able to catch rides), the IWT can be hiked as four distinct stages or thru-hiked in a month or less. Conceived by Boise outdoors writer Michael Lanza and developed with the Idaho Conservation League, the IWT showcases Idaho's world-class wilderness areas and represents the wildest long-distance hiking trail in the Lower 48.
Join us for this FREE webinar, May 10, 6:00-7:00pm MTN. Register below for login information!