View All South Central Idaho Adventures
Little City of Rocks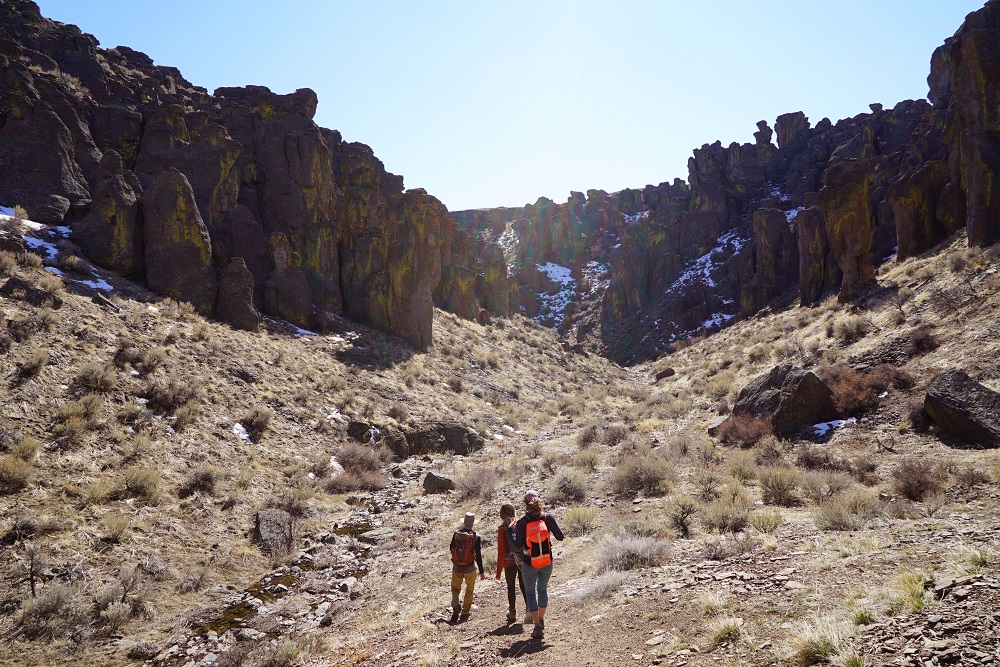 ---
Location
Snake River
Distance
Up to 5+ miles
Difficulty
Easy to moderate
Status
Wilderness Study Area (BLM)
More Info
The Little City of Rocks is a unique desert feature located in the Magic Valley. There is a parking area on a dirt road a short drive off Highway 46. While the Little City of Rocks is a Wilderness Study Area managed by the BLM, the access road crosses private land. When the road is muddy in the spring, the landowners close the road and visitors must walk the short way to the trailhead. 
The trail begins at a towering rock wall and wanders up the canyon past impressive hoodoos, rock arches, and canyon walls. The trail follows a small creek that hikers must cross several times. About 1.5 miles in, the trail forks into two canyons and hikers can choose to explore either canyon. Taking the right fork will bring you to a small waterfall several hundred feet from the fork. Though some trail reports note a lollipop loop option, this route is not obvious and requires hikers to use route finding and off trail skills. 
The trail provides visitors with plenty of opportunities for exploring side canyons, outcroppings of rock features, petroglyphs, and sagebrush hillsides. Springtime is the perfect time to visit the Little City of Rocks, but be sure to respect the private lands at the access point by not driving on the dirt road when it is muddy. As always, practice Leave No Trace recreation and common sense, as the area is outside of cell service, contains variable terrain off the main trail, and serves as a habitat for a variety of wildlife, including rattlesnakes. 
Directions
The trailhead is 13.5 miles north of the town of Gooding, located on a well-signed dirt road west off of Highway 46. If you are coming from Fairfield, drive about 25 miles south of Fairfield on Highway 46 and go past the road marked "City of Rocks" until you reach the brown BLM sign marking the turnoff to the Little City of Rocks to the west.