Giving Tuesday reminds us about the importance of giving back – especially to people and organizations that are transforming our communities and the world for the better. In celebration of this and Native American Heritage Month, this Giving Tuesday we'd like to introduce you to two Native-led organizations that are doing outstanding work protecting lands, water, fish and wildlife, and connecting people to nature.
Native-led conservation work is vital. Indigenous Peoples are the original stewards of nature – their relationships with the land, air, water, fish and wildlife go back thousands of years. Their extensive knowledge, experience, and practices are critical to the future of our ecosystems. As we reflect on the contributions and cultures of Native Tribes across our region during Native American Heritage Month, we also celebrate their role as staunch advocates for public lands and wildlife. In Idaho, Tribes are leading the charge for saving Snake River salmon and steelhead from extinction, and demanding justice.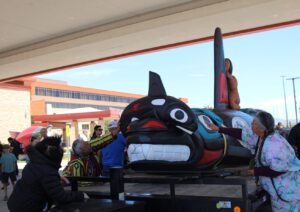 River Newe
Founded in 2017 by Jessica and Sammy Matsaw, River Newe focuses on mentorship, education, and Indigenous advocacy, with trips on the Middle Fork of the Salmon River. The organization's goal is to "increase representation and create spaces of equity through learning experiences on homelands with Shoshone-Bannocks, Indigenous, and minoritized communities on and off river."
River Newe's relationship with the Salmon River goes back since time immemorial – the Middle Fork runs through the heart of the ancestral homelands of the Shoshone-Bannock Tribes and Nimiipuu (Nez Perce Tribe). It is also the home of Idaho's endangered wild Snake River salmon, which regional Tribes including the Shoshone-Bannock also hold a deep connection to.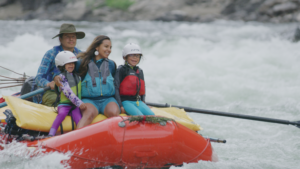 Unfortunately, along with forced removal from their lands in the past, Native Tribes face many barriers in accessing the Middle Fork today. From the high cost of outdoor equipment to other access issues, River Newe recognizes the vital role that access to ancestral homelands plays in ensuring the future of a culture, and the organization is working hard to break down these barriers.
River Newe has accomplished many things in their five years as an organization, including:
Helping restore Native customs and traditions.

Helping Native youth become stronger land/water protectors through intergenerational learning experiences.

Bringing 115 Tribal members on 8 different Middle Fork trips from 2017-2021.

Traveling over 784 miles of river.

Helping Tribal members, elders, artists, storytellers, musicians, fishermen, hunters, and gatherers share their knowledge to the next generation.
River Newe is also improving the rafting industry as a whole. Through consultation with private rafting companies on culturally appropriate and informational topics for staff and clients, gatherings to share cultural awareness, and data gathering for the science community, they are educating others about the importance of Indigenous culture, advocacy, and more.
Nimiipuu Protecting the Environment
Nimiipuu Protecting the Environment works to protect Nimiipuu (Nez Perce) Treaty areas, educate Tribal members and youth on current environmental issues, develop future environmental leaders, and promote Tribal activism. The organization "exist[s] to carry on time-honored sustainable environmental practices in the tradition of the Nimiipuu by facilitating and organizing tribal youth and adults in activities for the protection, enhancement, and promotion of mother earth and the Nimiipuu culture."
Currently, they are working on the Nimiipuu Canoe Project, which aims to bring back the traditional practice of carving canoes. This year, Nimiipuu Protecting the Environment hosted the House of Tears Totem carvers as they brought a totem carved by Lummi Tribal members to Nimiipuu Country on May 16, 2022 to support the breaching of the four lower Snake River dams. Just as the Nimiipuu Canoe Project works to combat a major cultural loss issue, the totem pole journey did the same – but for salmon.
The breaching of these dams is the best way to save wild Snake River salmon and steelhead from extinction, an effort that is incredibly important for Native Tribes across the region. Since time immemorial, Northwest indigenous Tribes have had a deep relationship with salmon. A century ago, Tribes reserved the right to these fish as a fundamental part of their lives and livelihoods. The collapse of wild salmon populations threatens these cultures and violates their treaty rights, but Tribes are staunch advocates for actions that will forestall extinction and bring fish back. If it weren't for this work, Idaho's salmon and steelhead would already be gone.
To learn more about the significant contributions of Northwest Tribal Nations to save wild salmon and steelhead from extinction, click here.