Bills are coming in fast and furious, as Monday, February 14 is the supposed deadline to introduce bills. So far, more than 200 bills have been introduced this session, along with more than two dozen resolutions. This week, we saw action on bills related to boating, voting, cows and cars, along with a tentatively positive vote in the Senate on science standards. 
The Senate Transportation committee voted to do away with auto emissions testing in the Treasure Valley, and new bills were introduced to further limit the application of building codes, which help keep our homes safe, comfortable and affordable.
There were presentations from UI's Dr. Garth Taylor on the financial condition of agriculture in the state, from the Department of Environmental Quality on how they implement environmental laws and programs, and from members of the Idaho Water Board. One of the common currents running through each of these presentations was the opportunity to focus federal stimulus dollars on water quality in the Snake River where it flows through southern Idaho, a major priority for ICL and partners.
Cows take center stage
Cows and the growth of the dairy industry were part of the discussions in several different committees this week. University of Idaho economist Dr. Garth Taylor presented to both House and Senate Ag Committees on the financial state of Idaho agriculture. According to Dr. Taylor, Idaho set revenue records in 2021. Noting the growth of dairies, he said "we have remarkable growth in agriculture in the state, and you have to look back at your growth in your dairy industry. All the time. Every time." And according to Taylor, revenues are expected to jump by 50% in 2022. He also discussed the consolidation of dairies, with 20 dairy farms producing 50% of the milk. With virtually all of the dairy industry concentrated in the Magic Valley along southern Idaho's Snake River, that growth comes with growing pains.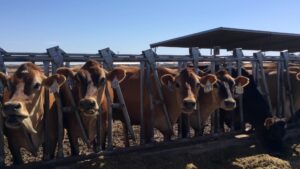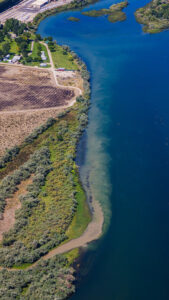 Brian Olmstead, a member of the Idaho Water Board from Twin Falls, discussed long term efforts to address water quality in the mid-Snake. He noted that canal companies, farmers and other partners have helped convert fields to more efficient sprinklers instead of flood irrigation which can carry soil, nutrients and other pollutants into the Snake River, leading to prolific growth of aquatic plants, toxic algae outbreaks and reduced water quality.
Over 56 million pounds of manure generated daily from Magic Valley dairies contributes to this overload of pollutants, which is partly why the dairy industry is pushing a bill that would allow state funds to be used to reduce pollution from dairies and feedlots. ICL is supporting this effort to fund water quality and pollution reduction efforts in the region.  "Hopefully stimulus dollars can do all kinds of things, including water quality," Olmstead concluded. We agree, and look forward to working with Mr. Olmstead, the dairy industry and other partners to find long term solutions to the challenges we face in the mid-Snake and beyond! 
Let your legislators know that you care about restoring the Snake River today. 
Failed land exchange surfaces in statehouse
On the public lands front, the proponent of a failed bid for a controversial land exchange along the shores of Payette Lake is trying to use the legislature to force changes in the state's process. In 2021, ICL and other local and regional partners raised concerns with Trident Holding's proposal that would have privatized thousands of acres of state land surrounding the lake.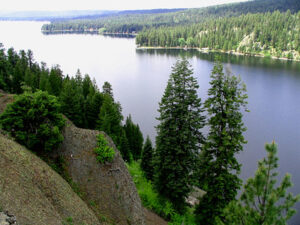 After the Land Board rejected their proposal last summer, Trident appealed the decision and also filed suit in state court, claiming among things, an environmental bias because one of Idaho Department of Lands staffers had once been a supporter of Idaho Rivers United. 
The Land Board determined that Trident's acre for acre exchange (21,000 acres of scattered Potlatch-Deltic timberlands in North Idaho for 20,000 acres of prime properties surrounding Payette Lake) failed to satisfy their constitutional obligation and wouldn't be in the state's best interest.
The bill goes much further than tinkering with the state's exchange process, it establishes new hurdles for hiring across the entire Idaho Department of Lands amidst the largest labor shortage we've faced in decades, allows a newly created "ombudsman" to hire outside counsel (circumventing the Attorney General), and mandates full appraisals on any land exchanges greater than 10,000 acres. Even if those exchanges are clearly not in the state's best interest, the IDL would have to spend thousands of dollars to appraise the lands. Given these and other problems, we're opposing the bill and continuing to work on realistic solutions that can protect access to Payette Lake and the public lands that surround it.
Science Standards pass Senate, but aren't done yet
Idaho's K-12 Science Standards and other education rules have been the subject of many meetings this session, and this week, we had the first chance to weigh in on the rules. At the hearing on Thursday, the Senate Education Committee approved the science standards, along with other rules put forward by the State Board of Education.
We expect further tinkering with the rules when the House and Senate consider a bill to replace the standards. The bill would circumvent the regular rules process and force the State Board of Education to adopt the House Education Committee's preferred version of the Science, Math and English standards. Instead, ICL and others feel the standards should follow the regular process, consider the impacts of the proposed changes, and solicit public input on the proposals.
In other news
House Bill 456, which sought to eliminate invasive species boat stickers for some watercraft, sank this week, and was replaced by a bill that simply adds on a $25 surcharge for out-of-state boaters. Senator Mark Harris' bill seeking to stymie all state land exchanges has reportedly run into trouble with opposition from a number of industry groups. ICL also faced stiff headwinds this week, when the Senate Transportation Committee unanimously passed a bill to end emissions testing in the Treasure Valley. If we are going to remove emissions testing, we need to simultaneously invest in Electric Vehicle infrastructure and other efforts to clear our air.
On a related note, February 14 is the second anniversary of Gov. Brad Little's Electric Vehicle Day proclamation. We'll be recognizing this anniversary on Monday and looking ahead to the future of more EVs in Idaho. 
Also on Monday, Sen. Michelle Stennett (D-Ketchum, who's retiring…) will introduce a memorial recognizing the 50th anniversary of the beloved Sawtooth National Recreation Area. Stay tuned!
Tie of the week!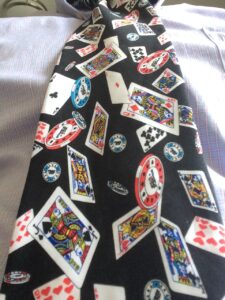 As Kenny Rogers said, "you have to know when to hold 'em, know when to fold 'em, know when to walk away…" ICL works on a variety of bills and rules that arise in the legislature each year. We've been doing it for 49 years and don't plan to let up anytime soon.
This year, along with other wildlife advocates, we were hoping to advance a bill to address increased testing for chronic wasting disease on elk farms. Alas, it appears that we had to fold that hand. We're still standing tall and will continue to look for alternative approaches to protect our precious wildlife. 
This week's tie is dedicated to anteing up, playing our hand and looking for each and every opportunity to advance the cause of conservation in the statehouse.
Until next week…Esto Perpetua,
Jonathan